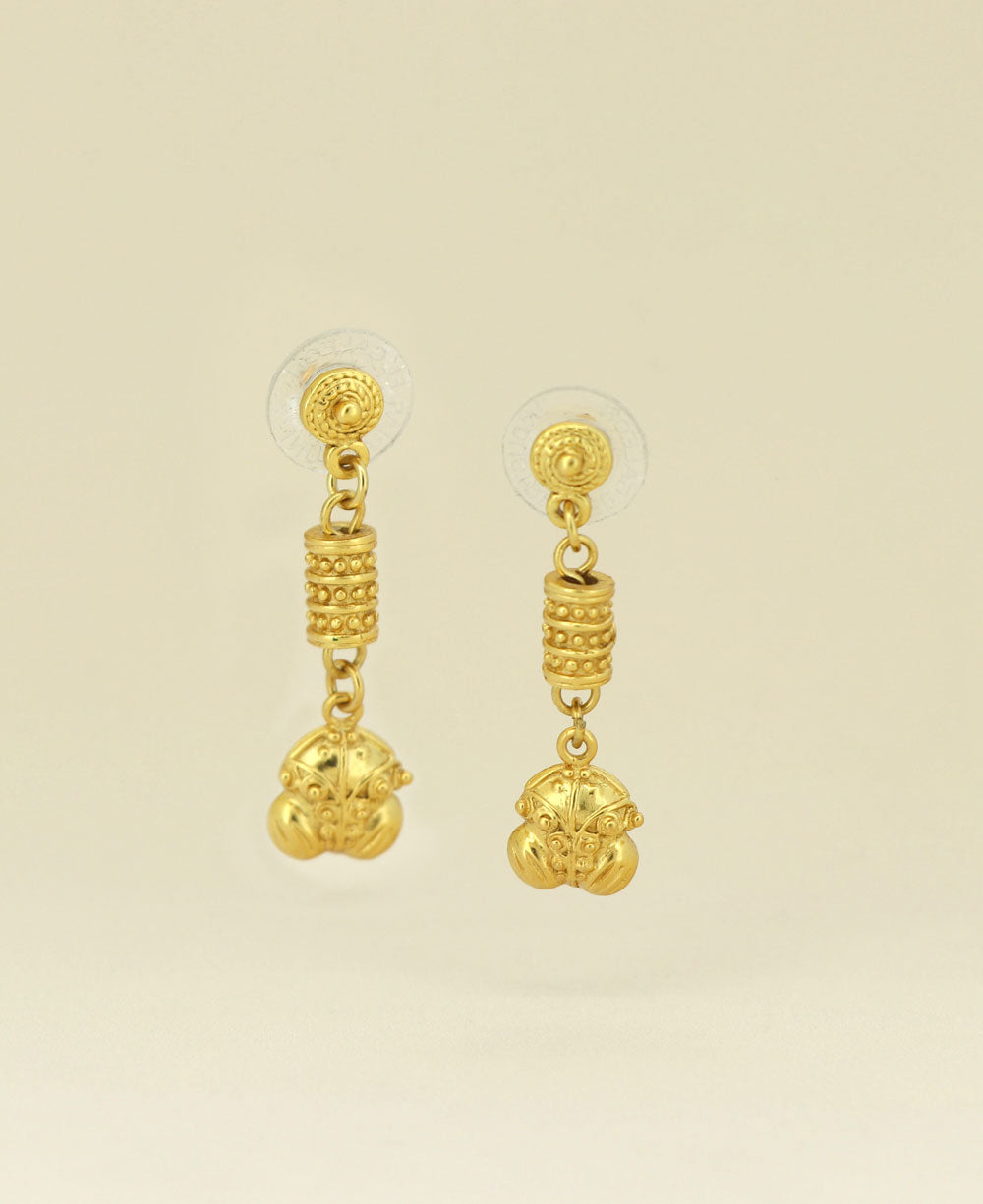 Gold Plated Colombian Frog Symbol Earrings
Item#
CMB-E04
---
---
Ships in 1 business day from NJ
---
Illuminate your persona with a touch of history and meaning with our Gold Plated Colombian Frog Symbol Earrings. A delightful celebration of pre-Colombian heritage, these earrings are steeped in deep cultural symbolism, embodying the rich narratives and vibrant aesthetics of Colombian artistry. Each earring features a beautifully carved frog symbol, an emblem of abundance, fertility, and transformation in the pre-Colombian era, delicately suspended from a golden barrel links.
Measures about 1.5" long
Material: The earrings are made of pewter with 2 coats of 24K gold plating. The jewelry is lead and nickel free
Earring posts are antiallergic and are made of titanium with no additional plating
Made in Colombia
Jewelry Care: Each piece is meticulously crafted by skilled artisans, resulting in variations and unique characteristics that are inherent to the artistry of this traditional craft. Keep separate, to prevent rubbing against other pieces, and avoid any cleaning chemicals to clean your jewelry. To preserve the longevity of the finish, please remove your jewelry before exercising, showering, swimming, or at the beach. To avoid discoloration, avoid the piece being in direct contact with perfumes, hair spray, lotions, and ocean water. Occasionally clean your jewelry with a soft cotton cloth
History: In Pre-Columbian culture, particularly in cultures like the Muisca, Maya, and Aztec civilizations, the frog was a symbol of abundance, fertility, and transformation. Frogs, due to their amphibious nature, are seen as creatures that inhabit or mediate between two worlds: water and land. This has often led them to be associated with transitions, change, and metamorphosis. The connection of frogs to water also has implications of life and fertility. Water is essential to life and is associated with birth and rebirth. In the Andean cultures, the frog is associated with the rains and water bodies and is believed to bring the rain that makes the crops grow, hence symbolizing abundance.
Shipping
Orders ship from a USA-based warehouse in 1 business day.
We offer FREE STANDARD SHIPPING on orders of $50 or over within continental USA. Any exceptions will be usually displayed on the product description page. Order below $50 pay a standard shipping charge of $4.85. 
For orders to  Alaska, Hawaii and US Protectorates, the shipping charges are calculated based on the weight and the final destination. Orders are shipped via UPS, FedEx, DHL or USPS or another carrier of our choice. Expedited shipping is available at an extra charge determined by the weight and the final destination of the product.        
Returns
We offer no-hassle returns. You may return most Cultural Elements items (unused) in original packaging. Your return package must be post-marked within 30 days from the delivery date. 
Some personal use items, media, books, cards and products containing plants (including air-plants) are non-returnable. Please check product page for details about the return policy of the product you wish to return.
Refund Policy
Orders with Free Shipping:

 

Full refund on your order.
Orders with Shipping costs:

 

Full refund on your product value. Shipping costs and additional service charges such as gift wrap are non-refundable.   
Exchange
Not fully satisfied with the fit? No worries. You can exchange sizes two ways:
1. Recommended Method – Because designs can sell out quickly, we recommend placing a new order for your desired size. After placing your order, you can simply return the original size for a refund.
2. Send us the unworn/unused item along with your packing slip. Write down your request for an exchange and your desired size on the slip. If the size is available, a replacement will promptly be shipped.
Got a quick product question? Send us a text at 201.637.7464 with the item number.